Each domain name connected to your hosting account with an active website has an .htaccess file.
An .htaccess file is a configuration file used to control and customize how the server behaves for a specific directory on your website.
You can view and edit the .htaccess file for your website from your hosting control panel.
1. Log in to your hosting control panel
2. Click on the File Manager button
3. Double click the domains folder
4. Locate your domain name's folder and double click it. If you have multiple domain names, you will see multiple folders listed.
5. Inside your domain name's folder, you will see a public_html folder, double click to open it up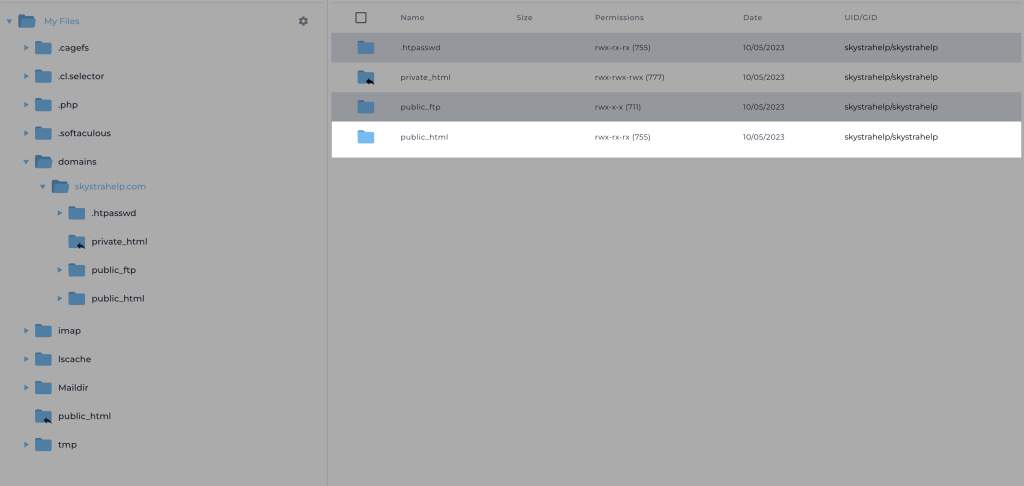 6. Inside of your domain name's public_html folder, locate the .htaccess file -depending on the size of your device's screen and number of files, you may have to scroll to find it.
Once you locate the .htaccess file, hover over it and do a right-click to get a dropdown, from the dropdown, select Edit
7. Your window will now pop open the .htaccess file, where you view and apply edits.*

*Note: Exercise great caution when performing edits to an .htaccess file. Only advanced users should edit .htaccess files; otherwise, seek the assistance of a website developer to avoid potential website issues.
8. Once you've applied edits to your .htaccess file, click the Save File button, followed by the X button to close the session, and return to your public_html folder.